Denial
Myth: The Holocaust Didn't Happen
Know It
The Holocaust was a genocide perpetrated by the German Nazi regime against European Jews between 1941-1945. Six million Jews were murdered in death camps, concentration camps, ghettos, killing fields and elsewhere.
Antisemitism Uncovered video on the antisemitic trope of denial.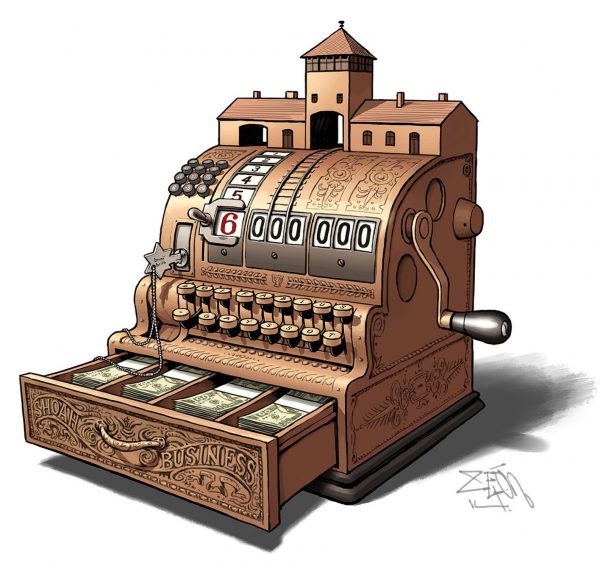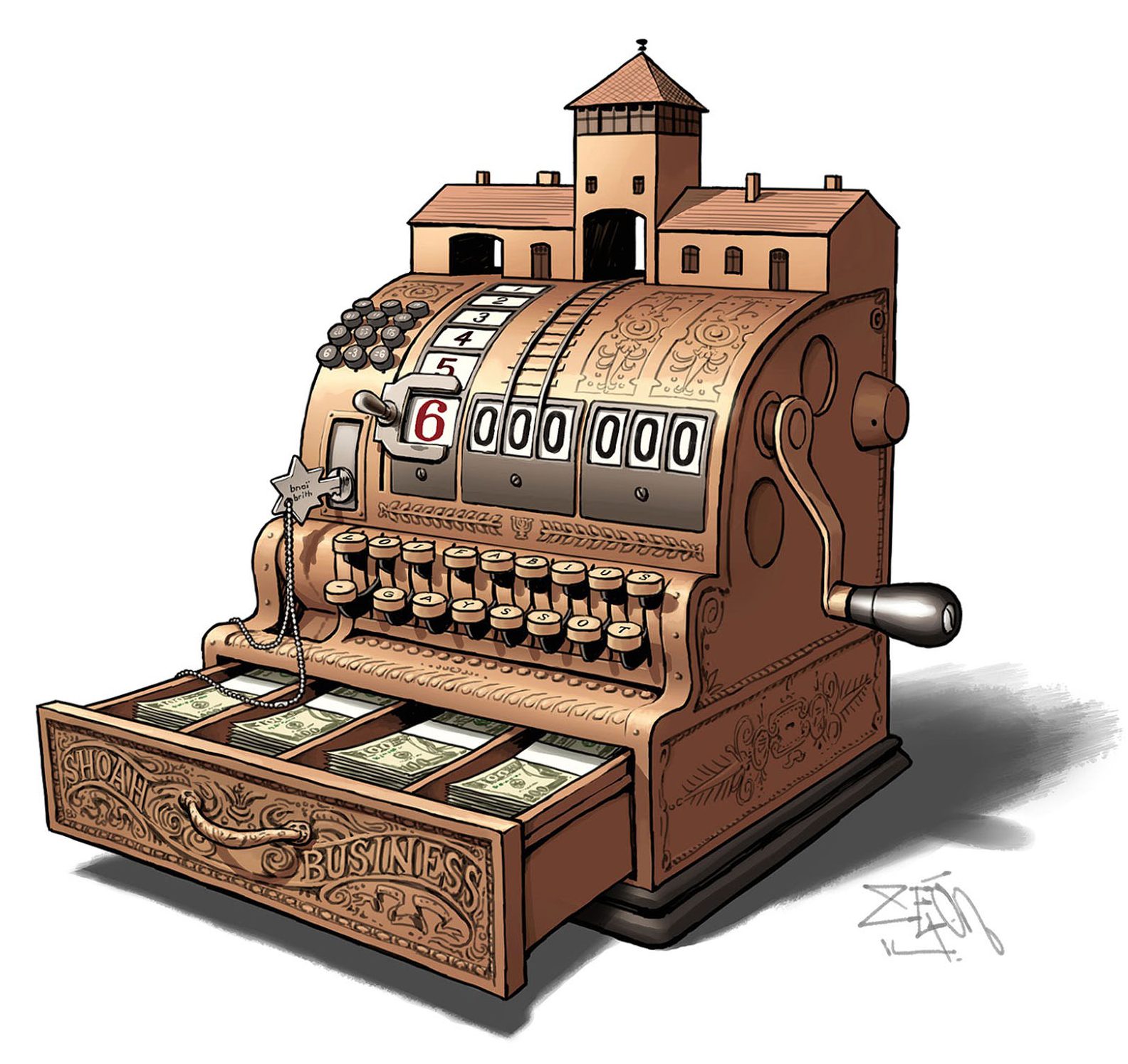 In the face of extensive credible evidence — volumes of governmental documents, thousands of eyewitness testimonies, firsthand admissions of guilt, photographs, film footage, meticulous written records, museums' worth of artifacts, not to mention the remains of the concentration camps, gas chambers and crematoria themselves — there are ongoing efforts to distort, disprove and conceal the facts of the Holocaust.1Robert Solomon Wistrich, "Introduction: Lying About the Holocaust," in Robert Solomon Wistrich, ed., Holocaust Denial: The Politics of Perfidy (Jerusalem and Berlin: Hebrew University Magnus Press & De Gruyter, 2012), 1-2.
There are those who simply deny the Holocaust ever happened and those who, in a variety of ways, deny elements of the Holocaust, most importantly the fact that Nazis used poison gas to kill Jews in death camps. Implicitly and explicitly, Holocaust deniers argue that this entire chapter of history is an elaborate hoax by Jewish propagandists who simply wanted reparations from Germany, the creation of a Jewish state and a distraction from their own double-dealing. Holocaust denial is at its core an antisemitic conspiracy theory.
Though not necessarily emerging from antisemitic conspiracy theories, trivialization of the Nazi genocide or distorting the Holocaust is highly offensive to Jews with a historical memory of suffering.
In a sense, Holocaust denial is as old as the Holocaust itself. Nazi bureaucrats were careful to cover up the Final Solution in bureaucratic language. Jews were not deported but "resettled." Ghettos were cordoned off for "quarantine." A death march was merely an "evacuation."
One notorious instance of Nazi falsification involves Theresienstadt, a transit camp in the former Czechoslovakia that the Nazis pretended was simply a resettlement community. When the International Red Cross demanded to investigate the camp's living conditions in 1944, the Nazis forced Jewish prisoners to plant flowers and decorate the barracks. The Nazis even fabricated a promotional film of Theresienstadt, in which prisoners were coerced to perform cheerfulness for the cameras in exchange for food. In reality, more than 30,000 prisoners died in Theresienstadt and nearly 90,000 more were deported to death camps.2United States Holocaust Memorial Museum, Holocaust Encyclopedia, "Deceiving the Public," https://encyclopedia.ushmm.org/content/en/article/deceiving-the-public.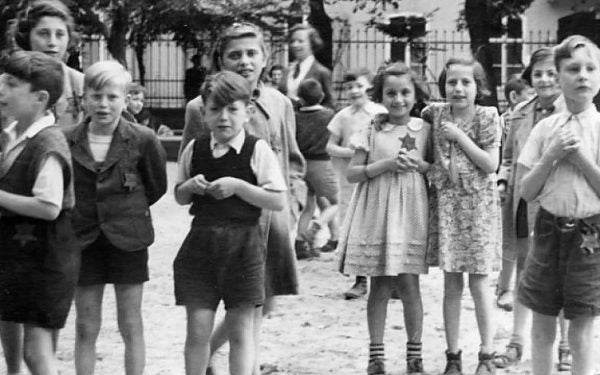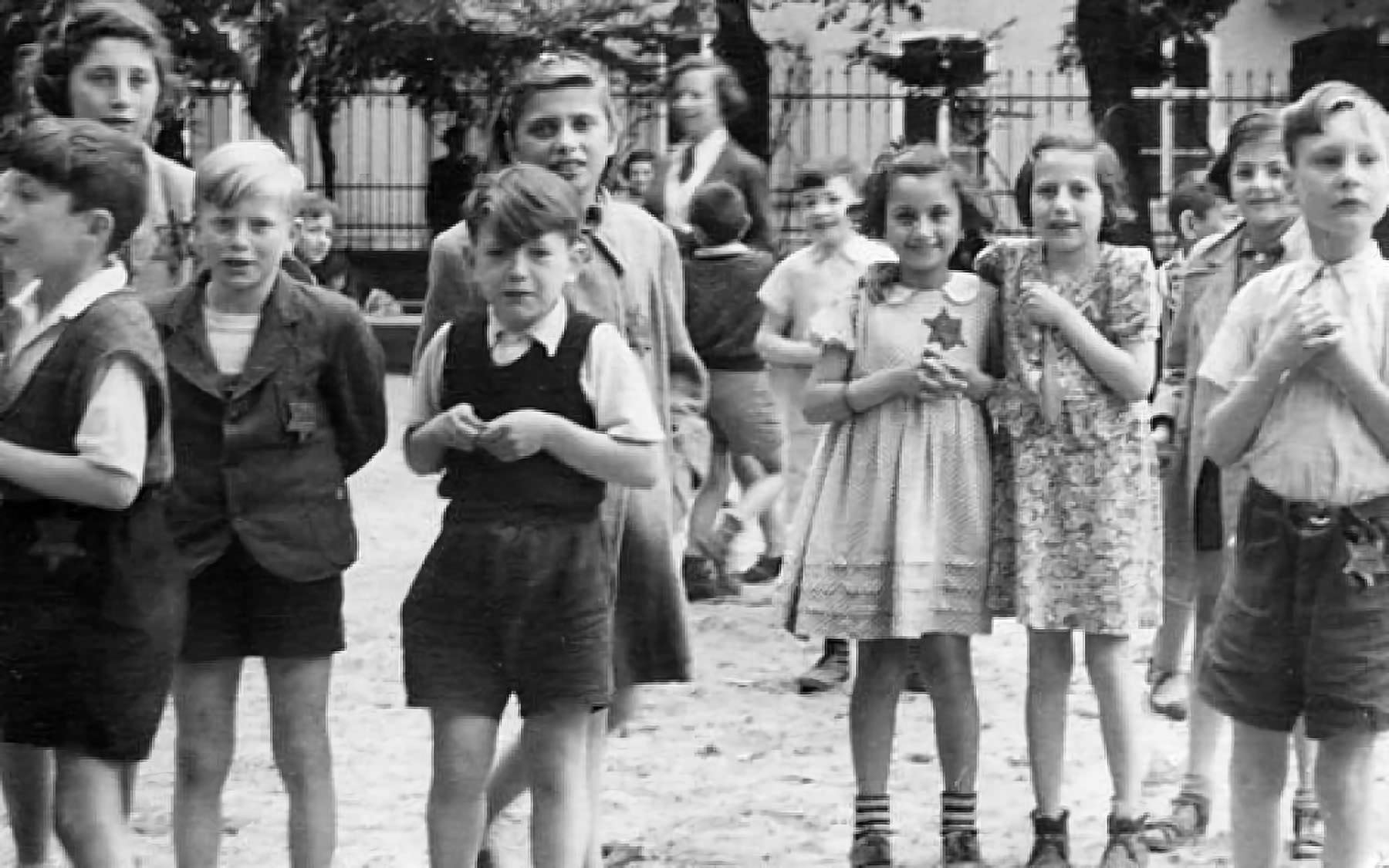 In the decades after the Holocaust, a number of pseudo-historians calling themselves "revisionists" set out to refute the Holocaust. Willis Carto, an American far-right political activist, career white supremacist and antisemite, founded the Institute for Historical Review (IHR) in 1978. Still operating out of California, the so-called "Institute" convened conferences and published journals which disregarded the most basic standards of historiography in order to paint a picture of the past that minimized or completely denied Jewish experiences of victimhood. Scholars, courts and academic institutions have condemned IHR as a clearinghouse for ahistorical, antisemitic propaganda with links to neo-Nazi organizations.3George Michael, Willis Carto and the American Far Right (Gainesville: University Press of Florida, 2008).
In addition, the Islamic Republic of Iran has long been a promoter and driver of Holocaust denial as well as Holocaust mockery, and has sponsored conferences and even cartoon contests on the subject and the regime has hosted and feted leading Holocaust deniers.4Nazila Fathi, "Holocaust Deniers and Skeptics Gather in Iran," The New York Times, December 11, 2006, https://www.nytimes.com/2006/12/11/world/middleeast/11cnd-iran.html.5ADL, "In Iran, Holocaust Denial and Mockery are Alive and Well," March 11, 2016, https://www.adl.org/blog/in-iran-holocaust-denial-and-mockery-are-alive-and-well.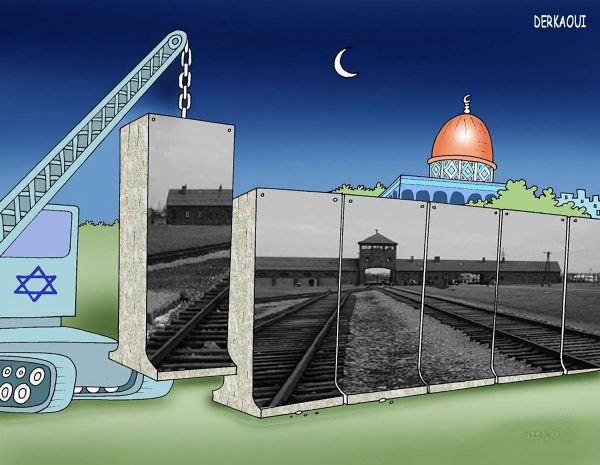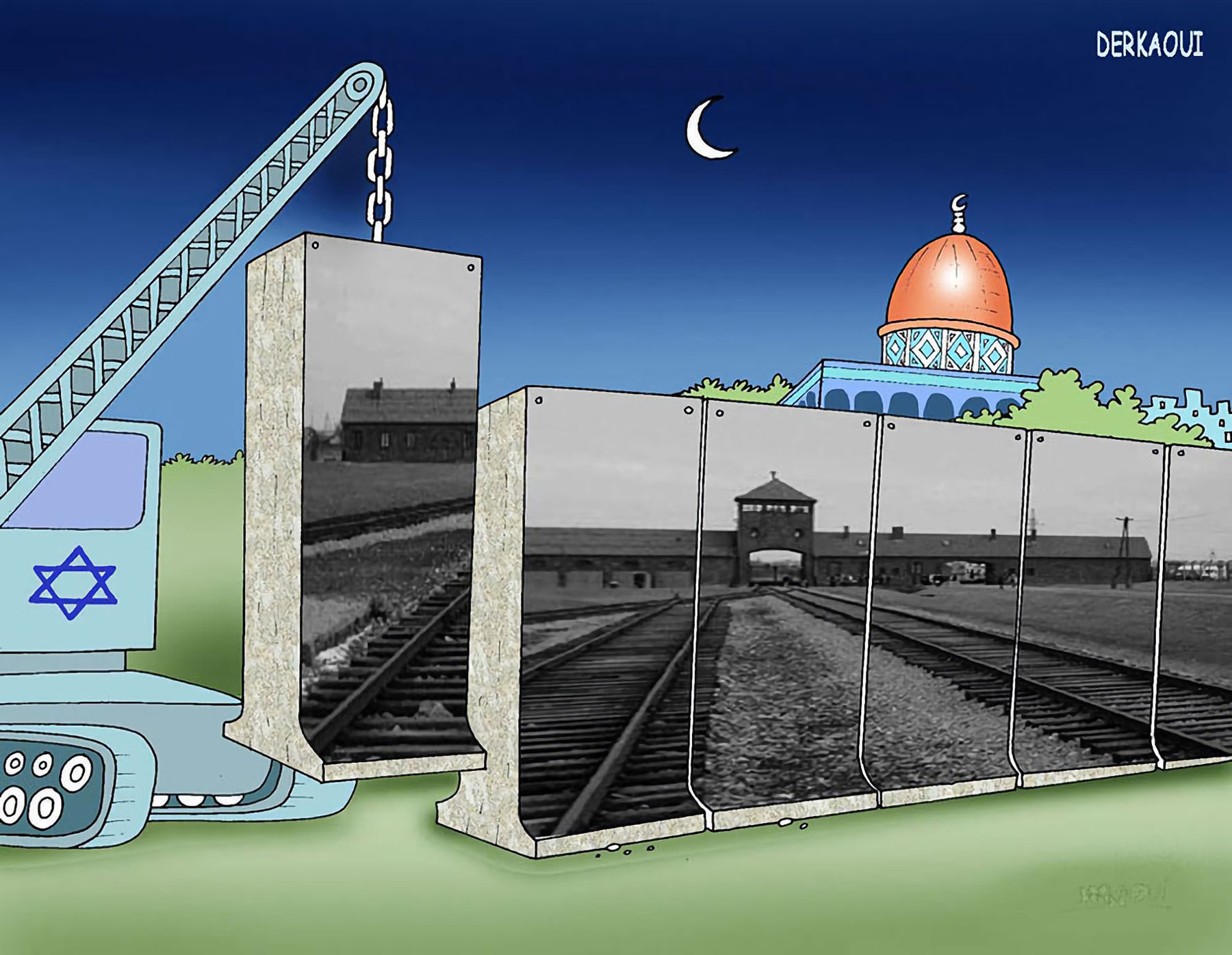 In its most developed form, Holocaust denial is an antisemitic conspiracy theory that claims Jews around the world knowingly fabricated evidence of their own genocide in order to extract reparations from Germany, gain world sympathy and facilitate the alleged theft of Palestinian land for the creation of Israel. It is founded on the belief that Jews somehow are able to force major institutions — governments, Hollywood, the media, academia — to promote a lie at the expense of non-Jews.6Jonathan Greenblatt, Congressional Testimony, "75 Years After the Holocaust: The Ongoing Battle Against Hate," January 29, 2020, https://oversight.house.gov/sites/democrats.oversight.house.gov/files/documents/Greenblatt.012920.Testimony.pdf.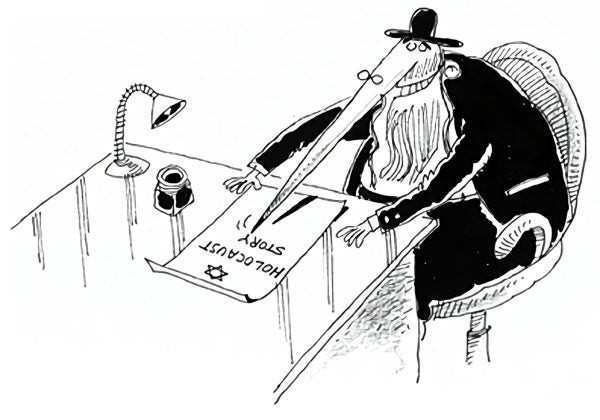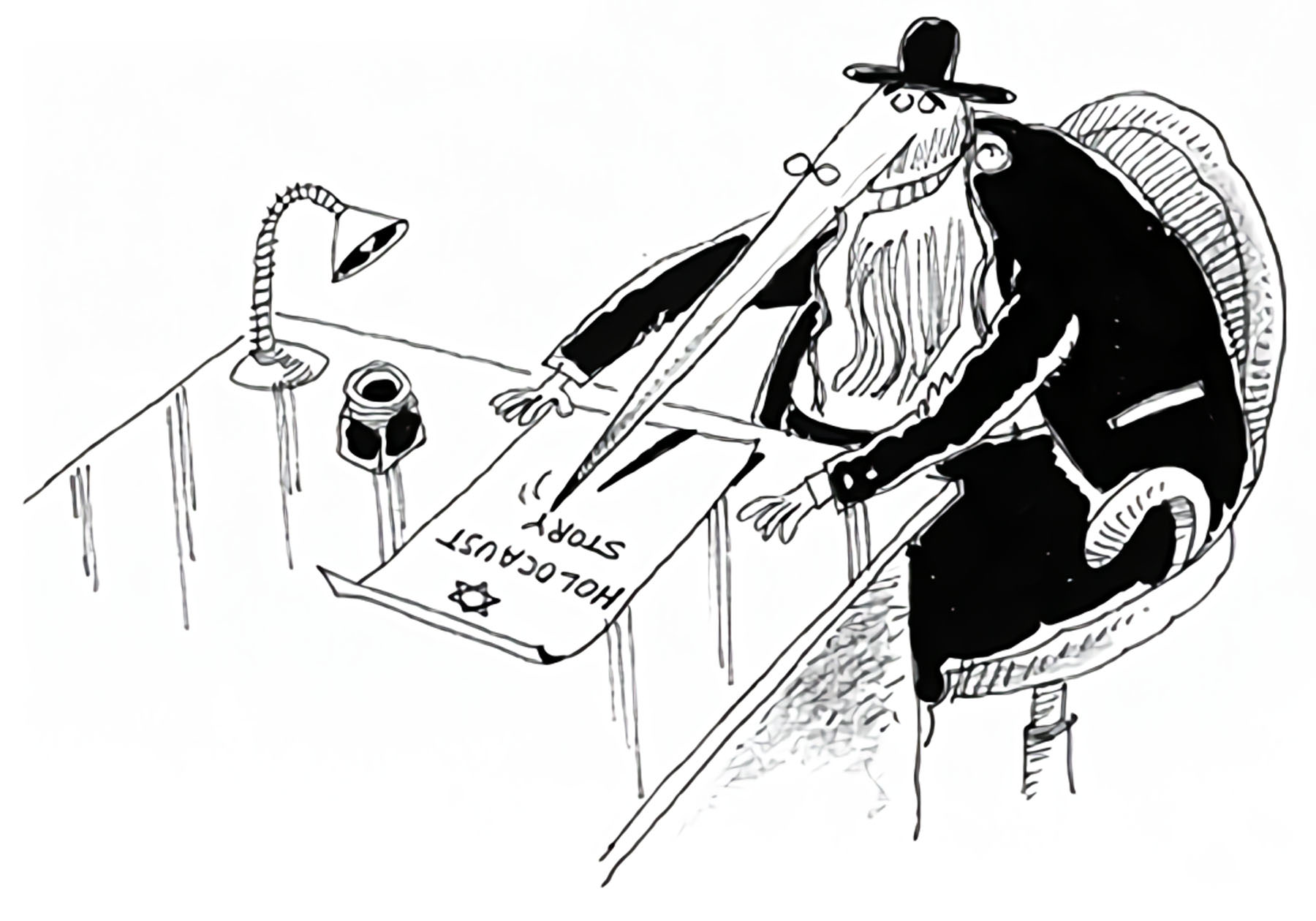 There have been some important public victories against Holocaust denialism such as the successful defense in an English court by historian Deborah Lipstadt, Dorot Professor of Modern Jewish History and Holocaust Studies at Emory University, and Penguin Books against antisemitic writer David Irving and the charge of libel for exposing his willful distortion of the Holocaust.7Holocaust Denial on Trial, Irving v. Penguin Books Ltd. and Deborah Lipstadt, Emory University Center for Digital Scholarship. Indeed, since the 1980s, Holocaust denial has migrated from pseudo-academic journals and conferences to the post-truth world of the Internet. Today, a younger generation of Holocaust deniers is active on social media forums like Facebook and Twitter, alt right websites like the Daily Stormer and the anonymous forums 4Chan and 8kun (the successor to the notorious online forum 8chan after it was forced off the Internet). Moreover, with the passage of time, historical distance from the Holocaust contributes, for some, to disbelief that it occurred. According to a 2019 poll, one in 20 people in Britain do not believe the Holocaust ever happened.8Julia Neuberger, Antisemitism: What It Is. What It Isn't. Why It Matters. (London: Weidenfeld & Nicolson, 2019), 90-92.
Holocaust denial is as old as the Holocaust itself.
See It
"[Adolf Hitler] didn't kill six million Jews. That's just, like, factually incorrect…The Holocaust is not what happened. Let's look at the facts of that." – Ye on InfoWars, December 2022  9Source: Goyim Defense League Telegram Channel

In a 2023 interview with German newspaper The Berliner Zietung, former Pink Floyd frontman Roger Waters engaged in Holocaust inversion when he likened the Jewish state of Israel to Nazi Germany. To make his case, Waters, who has a long history of antisemitism, added the falsehood that "the Israelis are committing genocide" based on an ideology of racial superiority.
As of Feb 20, 2023, "The Other Side: The Secret Relationship Between Nazism and Zionism" a book by Palestinian Authority President Mahmoud Abbas, written in 1984, that falsely alleges the Holocaust against European Jews was carried out by a partnership between Nazis and Zionists, is being promoted on the official website of the President of Palestine. 10

Source: https://president.ps/books.aspx/

The #Holohoax hashtag is a global phenomenon on Twitter. It is especially popular on January 27, International Holocaust Remembrance Day.
In 2021, a petition entitled "No to a Holocaust memorial at the Place des Nations in Geneva!" was widely circulated by email, notably to Geneva's elected officials. The headline on the petition is : "The Holocaust is a fraud."11"Une pétition négationniste contre un projet de mémorial de la Shoah à Genève," The Times of Israel France, August 17, 2021, https://fr.timesofisrael.com/une-petition-negationniste-contre-un-projet-de-memorial-de-la-shoah-a-geneve/.12Eric Felley, "Holocauste: une pétition négationniste dénoncée à Genève," Le Matin, August 13, 2021, https://www.lematin.ch/story/holocauste-une-petition-negationniste-denoncee-a-geneve-407434819921.
T-shirts bearing antisemitic slogans claiming the Holocaust was a "hoax" are sold online through the Goyim Defense League's video streaming website.13Gabe Stutman, "Notorious Bay Area anti-Semite is selling Hitler T-shirts online," The Times of Israel, March 10, 2021 https://www.timesofisrael.com/notorious-bay-area-anti-semite-is-selling-hitler-t-shirts-online/.
In May 2019, Al Jazeera suspended two journalists for producing a video that characterized the number of Jewish people killed during the Holocaust as a "Zionist" exaggeration.14"Al Jazeera suspends journalists for Holocaust denial video," BBC News, May 20, 2019, https://www.bbc.com/news/world-middle-east-48335169.
In May 2019, British blogger and songwriter Alison Chabloz was convicted by a London court of sending "offensive, indecent or menacing messages" after posting YouTube videos in which she referred to the Holocaust as "just a bunch of lies."15Sam Sokol, "Holocaust-denying UK blogger says she's been banned from France for 40 years," The Times of Israel, Aug. 13, 2019, https://www.timesofisrael.com/holocaust-denying-blogger-says-shes-banned-from-france-for-40-years/.
"So how do we explain the fact that for forty-five years since the end of World War Two, we have all, internationally, globally, been beset by a common guilt: the idea that the human race was responsible for liquidating six million human beings in gas chambers? Well, the answer is: we have been subjected to the biggest propaganda offensive that the human race has ever known." – David Irving, remarks presented to the Tenth International Revisionist Conference of the Institute for Historical Review, October 1990.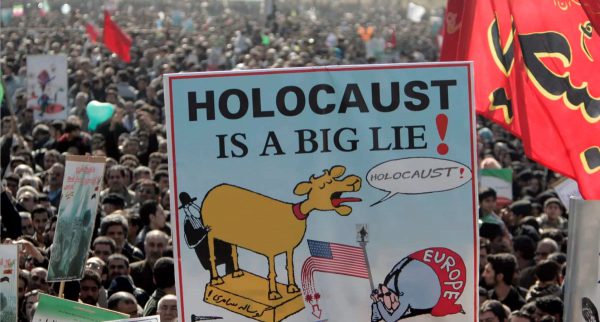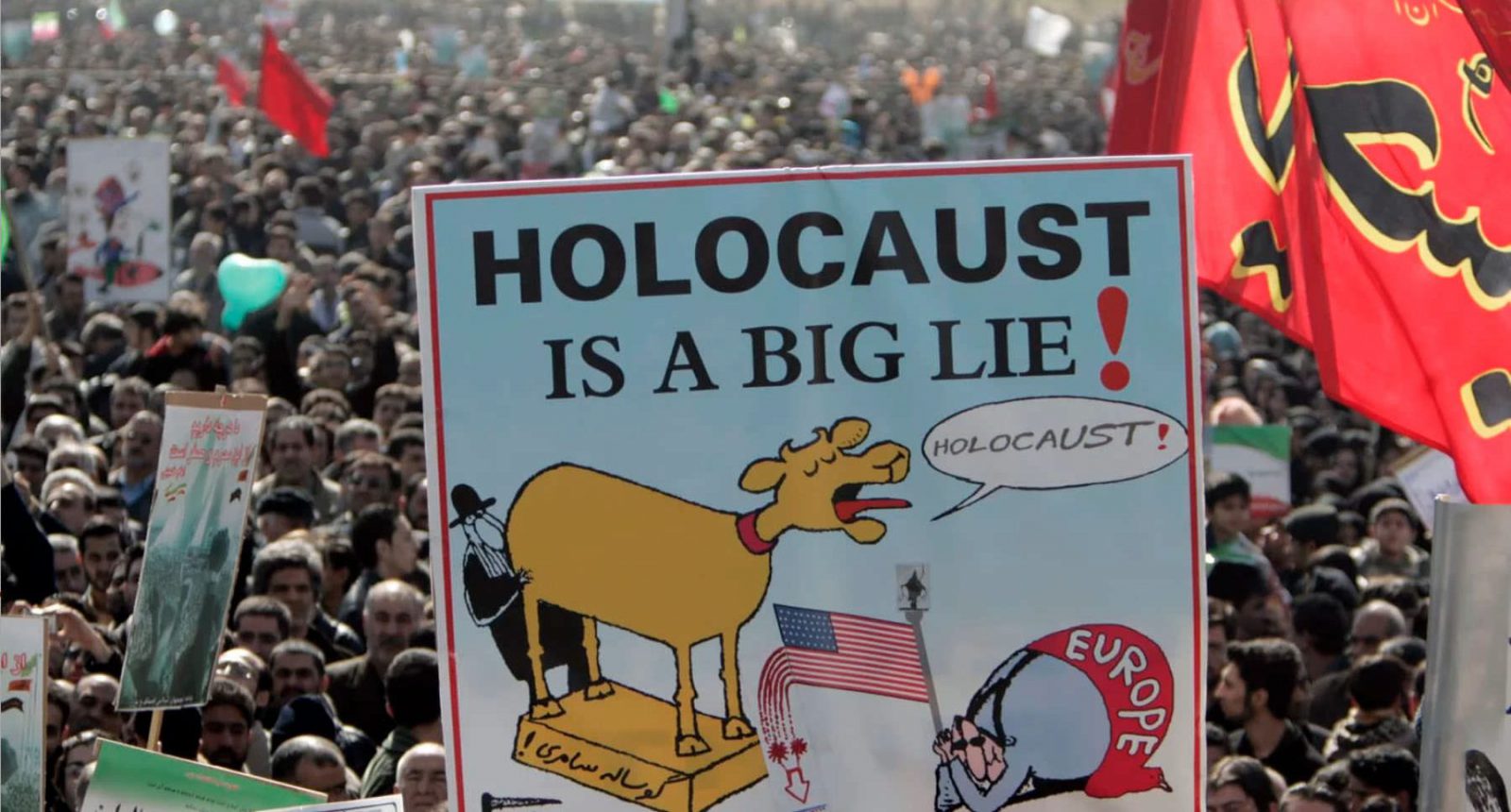 "Homavandi, Raheb, Holocaust Is a Big Lie (2016), photo, Reuters https://www.thedailybeast.com/irans-holocaust-cartoon-competition"
Address It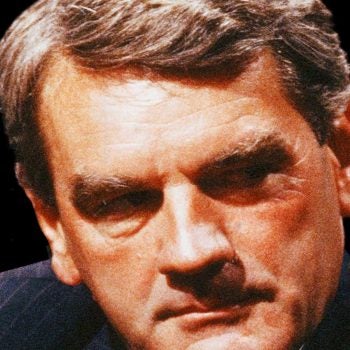 In most cases, a healthy debate promotes understanding. But even in the most liberal societies, certain matters are closed for discussion. For good reason, we choose not to argue about whether the Earth is flat, or whether white people have (as some white supremacists claim) "superior germ-plasm."16Ian Frazier, "When W.E.B. Du Bois Made a Laughing Stock of a White Supremacist," New Yorker, Aug. 19, 2019, https://www.newyorker.com/magazine/2019/08/26/when-w-e-b-du-bois-made-a-laughingstock-of-a-white-supremacist. Nor should we argue about whether the Holocaust happened. It did. Arguments against this fact reveal little about history and much about the arguer's wish for the world to replace memories of Jewish victimization with a monolithic image of Jews as powerful and treacherous.
Join The Fight
Antisemitism Uncovered is a guide to help you understand more about the history and current manifestations of antisemitism. What's the next step? Join the fight against it! We've gathered all our most practical resources—the tools and strategies you need to engage in that fight—in one place: right here in Antisemitism Uncovered Toolkit: Resources to Speak Up, Share Facts and Show Strength Against Hate.