Anti-Zionism
Anti-Zionism or Criticism of Israel is Never Antisemitic
Know It
Criticism of Israel is not in and of itself antisemitic. But much of contemporary anti-Zionism, or the delegitimization of Israel and its supporters, draws on and perpetuates antisemitic tropes.1Dave Rich, The Left's Jewish Problem: Jeremy Corbyn, Israel and Anti-Semitism (Biteback, 2016).
Antisemitism Uncovered video on the antisemitic trope that anti-Zionism or criticism of Israel is never antisemitic.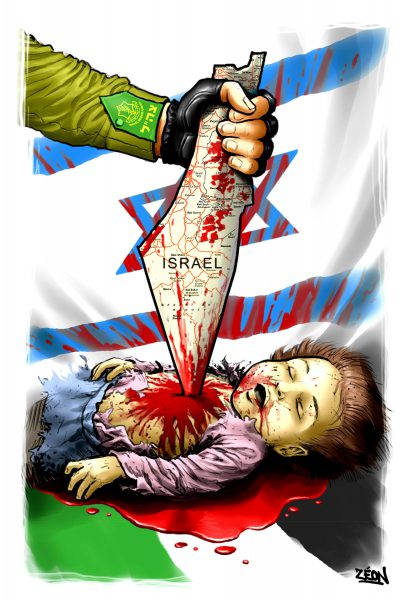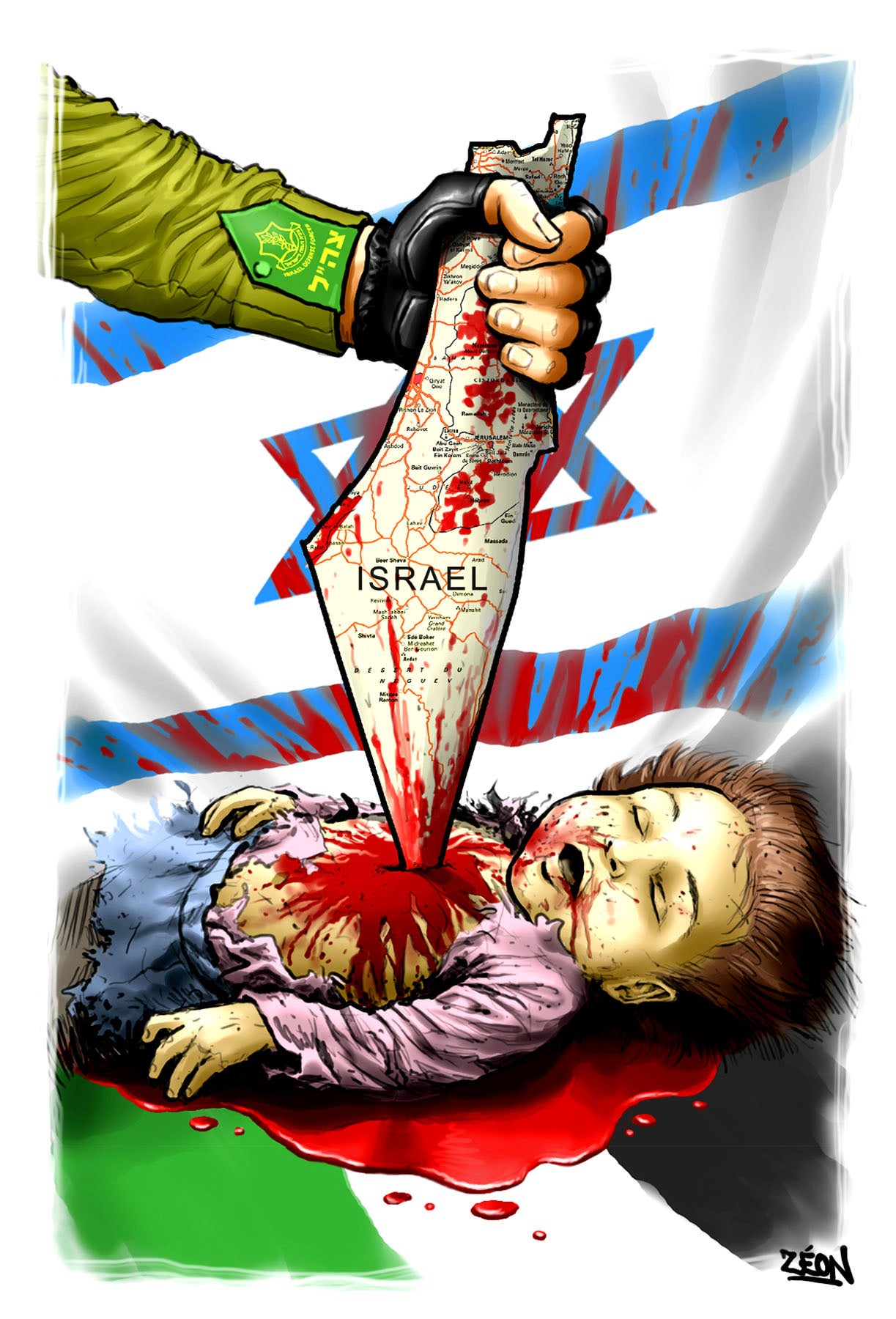 Some background: Zionism — the movement for Jewish self-determination and statehood, reflects the millennial longing of Jews to return to their ancestral homeland in the land of Israel. Zion is a biblical term used interchangeably with Jerusalem. This longing to "return to Zion" has been a tenet of Jewish tradition since the Romans destroyed the Jewish Second Temple in 70 CE and dispossessed the Jews of their sovereignty over the region. Modern Zionism emerged in the 19th century in response to a long history of anti-Jewish animus across Europe, including periods of anti-Jewish violence and intense persecution. While there had always been a Jewish presence in the land of Israel, by the time of the First Zionist Congress in 1897, Jews had already been returning to the then-Ottoman-ruled territory of Palestine to escape resurgences of anti-Jewish conditions in Europe and to fulfill the enduring dream of homecoming.2Anita Shapira, Israel: A History (Waltham, MA: Brandeis University Press), 11-13, 28-29. 3In 1947, Britain abandoned its control of Palestine, and the United Nations General Assembly voted to partition the land, to create separate Jewish and Arab states in the region. For the first time in history, the wider world recognized the Jewish right to a state in the land of their ancestry. The State of Israel was declared on May 14, 1948. For more on the founding of Israel, see https://www.adl.org/resources/glossary-terms/founding-of-the-state-of-israel-may-14-1948.
Zionism's development as a modern movement reflects a historical moment in which numerous groups sought freedom from imperial rule through movements to cultivate and protect their identity and community peoplehood as a "nation."4Arthur Hertzberg, The Zionist Idea: A Historical Analysis and Reader (Atheneum, 1972). Zionism posits that Jews ought to have a safe haven from the bigotry and endangerment they suffer perennially as a minority culture among non-Jewish majority cultures — be it from Tsarist pogroms, Hitler's Europe, the expulsion of Jews from Arab lands, anti-Jewish restrictions in the Soviet Union or the increase in antisemitic violence in contemporary France.
Zionism asserts that the Jews have the same right to self-determination and nationhood that is typically afforded to other nations.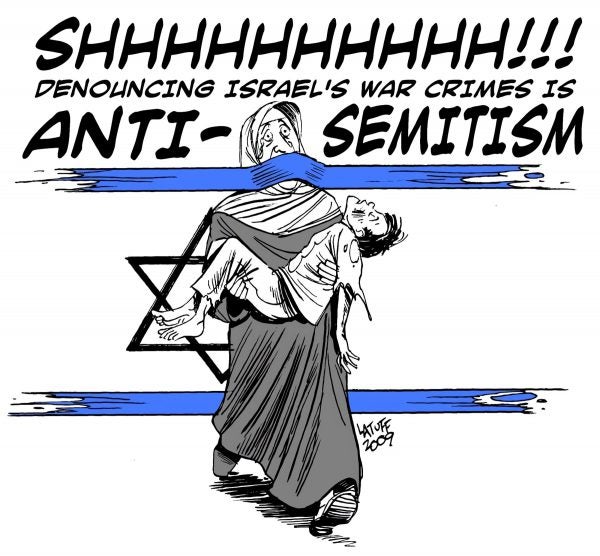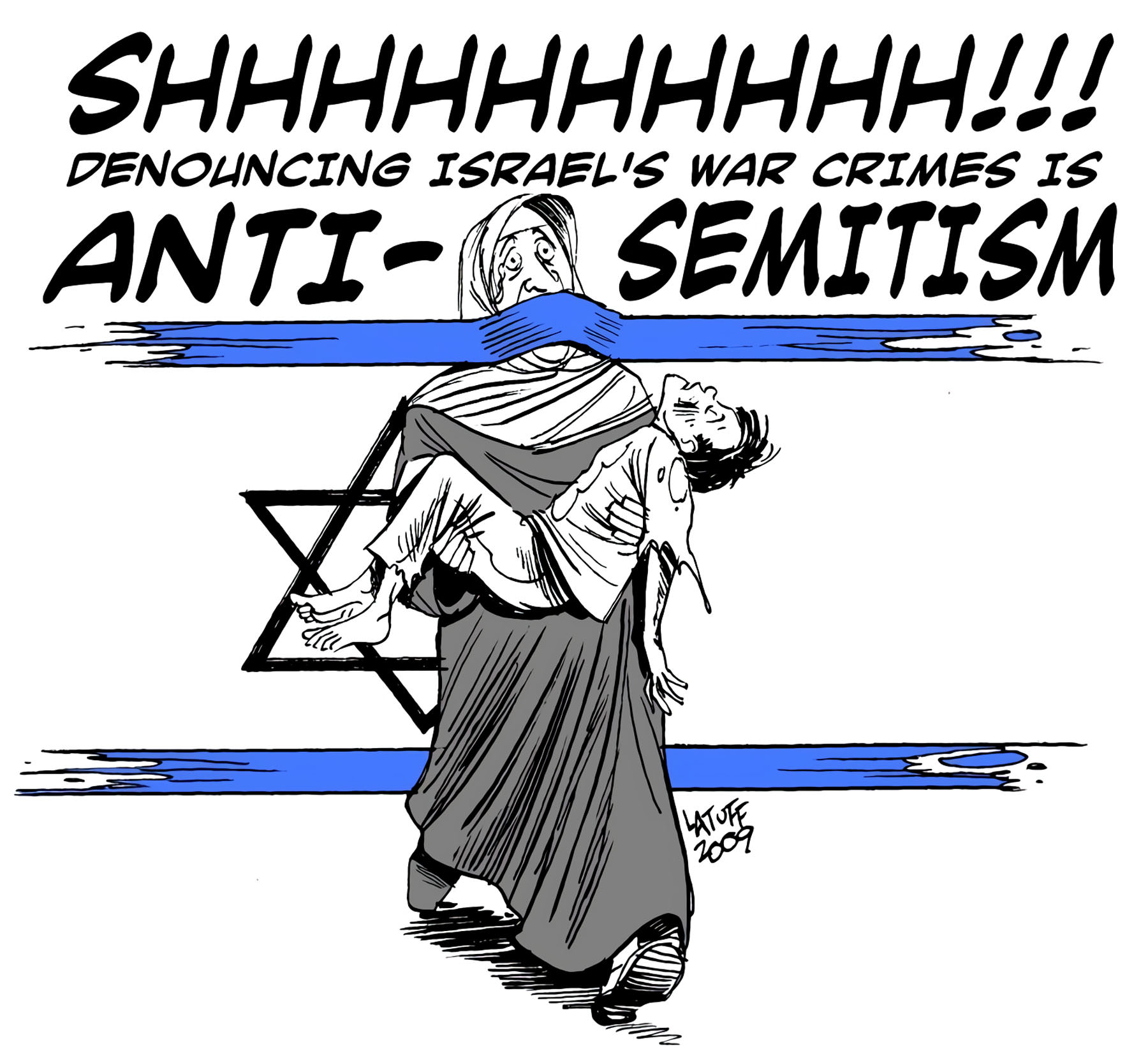 Zionism is a big tent that includes progressive Jews, conservative Jews, apolitical Jews and non-Jews who believe in and support the right of the State of Israel to exist as a Jewish homeland. There are Zionists who are critical of Israeli policies, just as there are Zionists who rarely voice disagreement with the Israeli government. There are diverse views among Zionists about the Israeli-Palestinian conflict and about how to promote peace or support for a two-state solution. But the bottom line is that the vast majority of Jews around the world feel a connection or kinship with Israel, whether or not they explicitly identify as Zionists, or whatever their position on specific Israeli government policies, and believe in Israel's right to exist as a Jewish and democratic state. In a 2013 survey by the Pew Research Center, about seven in ten American Jews responded that they were emotionally very attached, or somewhat attached, to Israel.5Pew Research Center, Religion and Public Life, A Portrait of Jewish Americans, "Chapter 5: Connection With and Attitudes Toward Israel," "https://www.pewforum.org/2013/10/01/chapter-5-connection-with-and-attitudes-towards-israel/.
Anti-Zionism downplays the history of Jewish nationhood and its connection to the land of Israel, the importance of the land of Israel to Jews throughout history and the aspirations that never disappeared from Jewish ritual, culture, thought and belief since the Roman destruction of the Jerusalem Temple in 70 CE.
More than anything, anti-Zionism and extreme criticism of Israel frequently demonizes the State of Israel as uniquely evil among all the nations of the world. Denying Israel's right to protect itself from populations that have actively sought its physical destruction, it magnifies every mistake and wrongful act possibly associated with the country, strips these of all context and even invents new criminal accusations. In current forms, we often see such assertions in present-day Boycott, Divestment and Sanctions campaigns, whereby Zionism and the Jewish state are accused of being akin to other forms of hate such as racism or sexism. Often these critiques project the historical sins and stereotypes once held against Jews onto the Jewish state.
Those who propagate "anti-Zionism" distort what Zionism is and define it narrowly and perniciously. Some express criticism of specific Israeli policies by assigning blame to "Zionism" or "Zionists," thereby turning a critique of policy into a negation and demonization of Jewish statehood and its supporters. Denying the plurality of thought among Jews and Zionists, anti-Zionism envisions Zionists as a monolithic evil and as inherently opposed to Palestinians' human rights and to the values of social justice. Like classic antisemites, sometimes anti-Zionists even use "Zionist" as a derogatory term for all Jews or interchangeably with all Israelis — a dangerous conflation.
There may be some individuals who oppose Zionism because they are ideologically opposed to nationalism and nation-states, and oppose these movements for all nationalities and religions, or say no Jewish state should exist until the Messiah comes, but such positions are fringe.
Consciously or not, among today's anti-Zionist leaders, and those who engage in harsh delegitimization of Israel, are individuals who often thinly disguise irrational antipathy toward Jews and use age-old anti-Jewish rhetoric in their charges against Zionism and Israel; for example invoking dual loyalty, conspiracies of Jewish/Zionist power over a country's policy and using classical antisemitic imagery to characterize Israelis, among others. Such expressions are also found in some harsh criticism of Israel, whereby Jews and Judaism are rejected or condemned based on perceived associations with Israeli policy.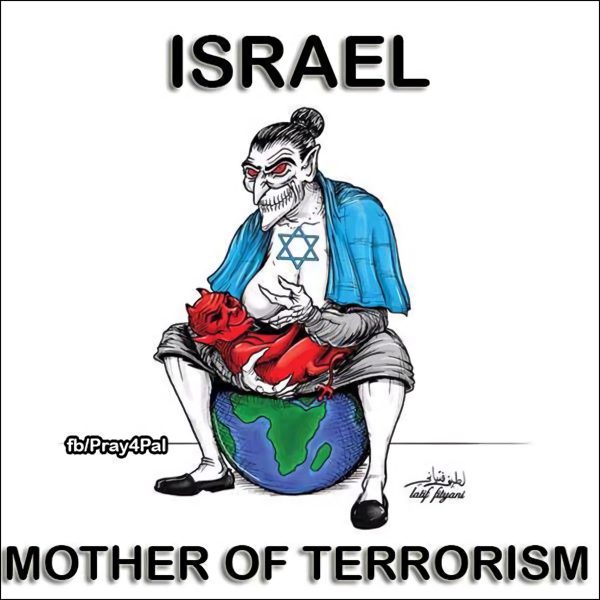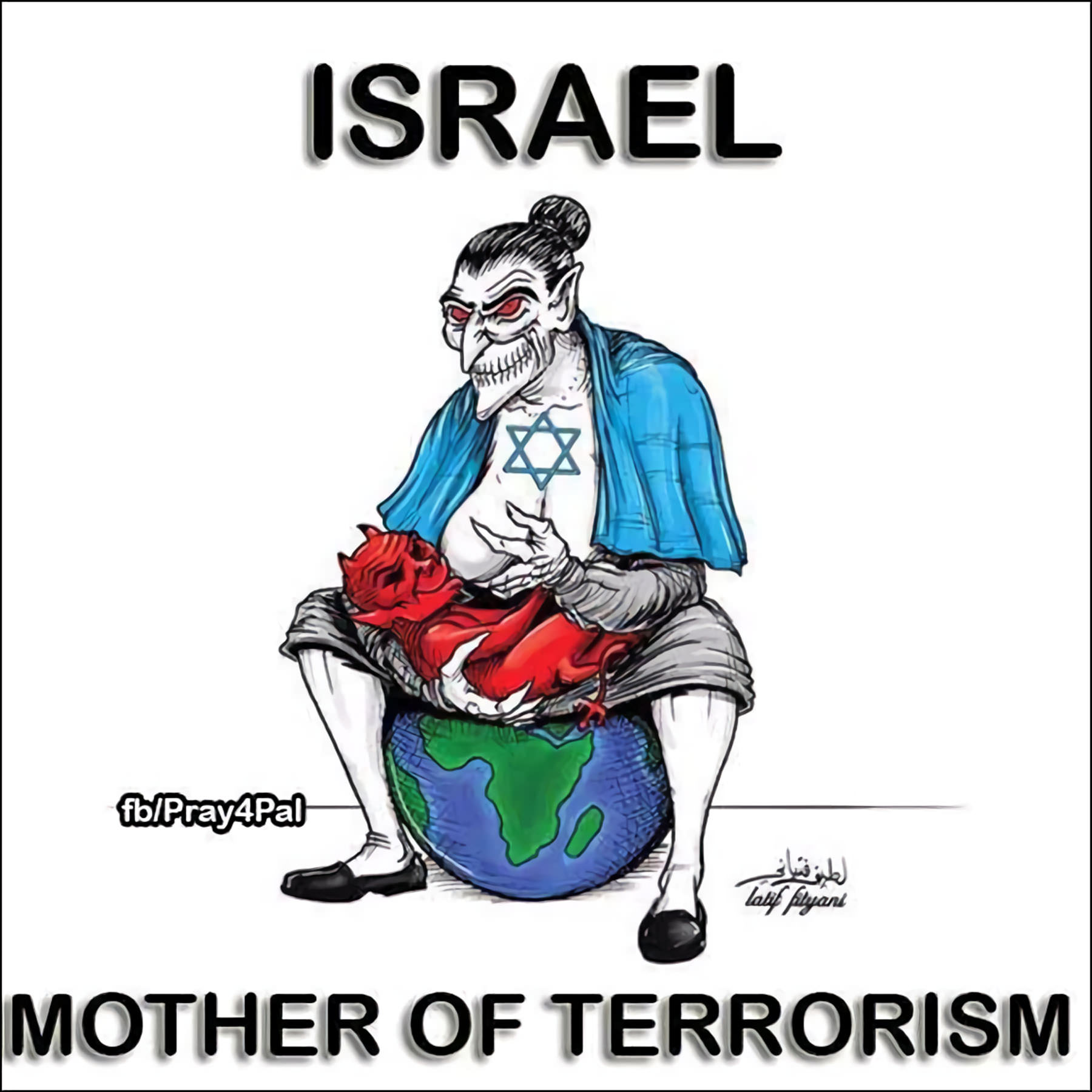 Anti-Zionism views Jewish power as fundamentally malevolent and denounces the Jewish aspiration for sovereignty. Often anti-Zionists do not scrutinize other nations or movements for nationhood to the same degree. Israel is regarded simply as an illegitimate state, founded on a lie. Some anti-Zionist activists have even sought to normalize the exclusion of Jews en masse from political movements unrelated to Israel unless they proactively denounce Israeli policies.
In February 2019, French President Emmanuel Macron stated, "Anti-Zionism is one of the modern forms of antisemitism. Behind the negation of Israel's existence, what is hiding is the hatred of Jews."6Henry Samuel, "Anti-Zionism is anti-Semitism, warns Emmanuel Macron," The Telegraph, February 21, 2019, https://www.telegraph.co.uk/news/2019/02/21/anti-zionism-new-form-anti-semitism-warns-emmanuel-macron/.
Anti-Zionism is one of the modern forms of antisemitism. Behind the negation of Israel's existence, what is hiding is the hatred of Jews.

French President Emmanuel Macron
See It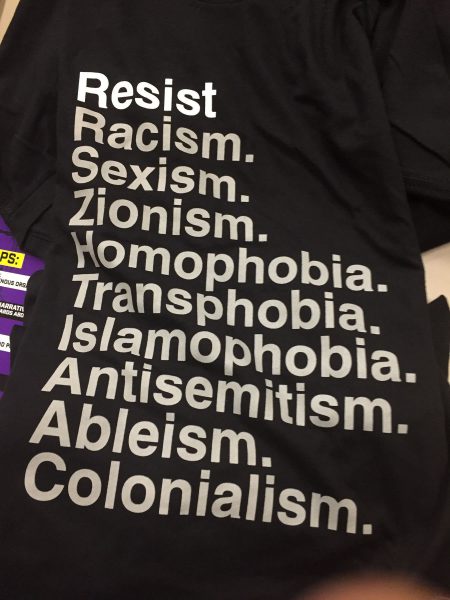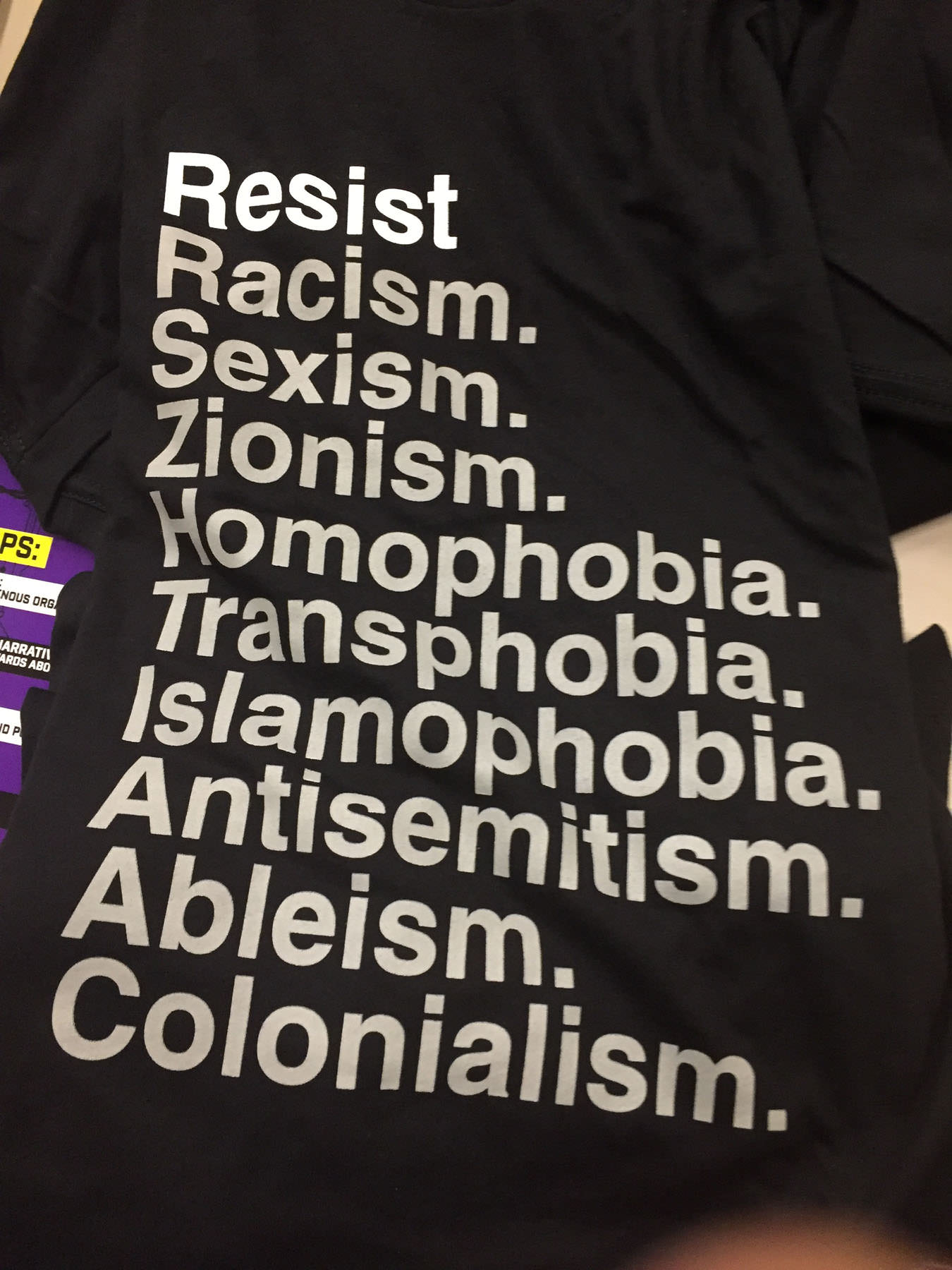 A shirt sold at the 2019 Netroots Nation conference linked Zionism to forms of discrimination, repression and hate:20Ben Jacobs, "Ex-CNN commentator at progressive summit: Major news outlets are 'Zionist orgs'," Jewish Insider, July 16, 2019, https://jewishinsider.com/2019/07/ex-cnn-commentator-at-progressive-summit-major-news-outlets-are-zionist-orgs/.
Resist.
Racism.
Sexism.
Zionism.
Homophobia.
Transphobia.
Islamophobia.
Antisemitism.
Ableism.
Colonialism.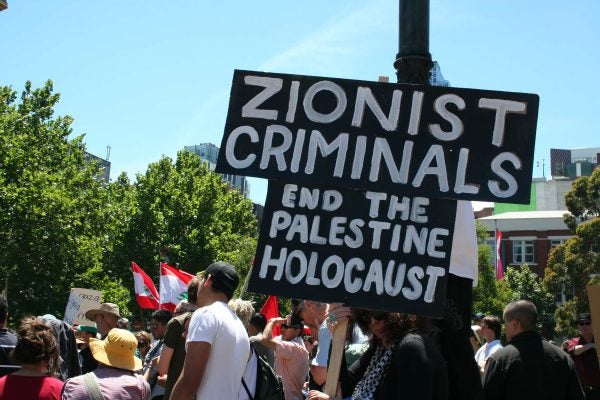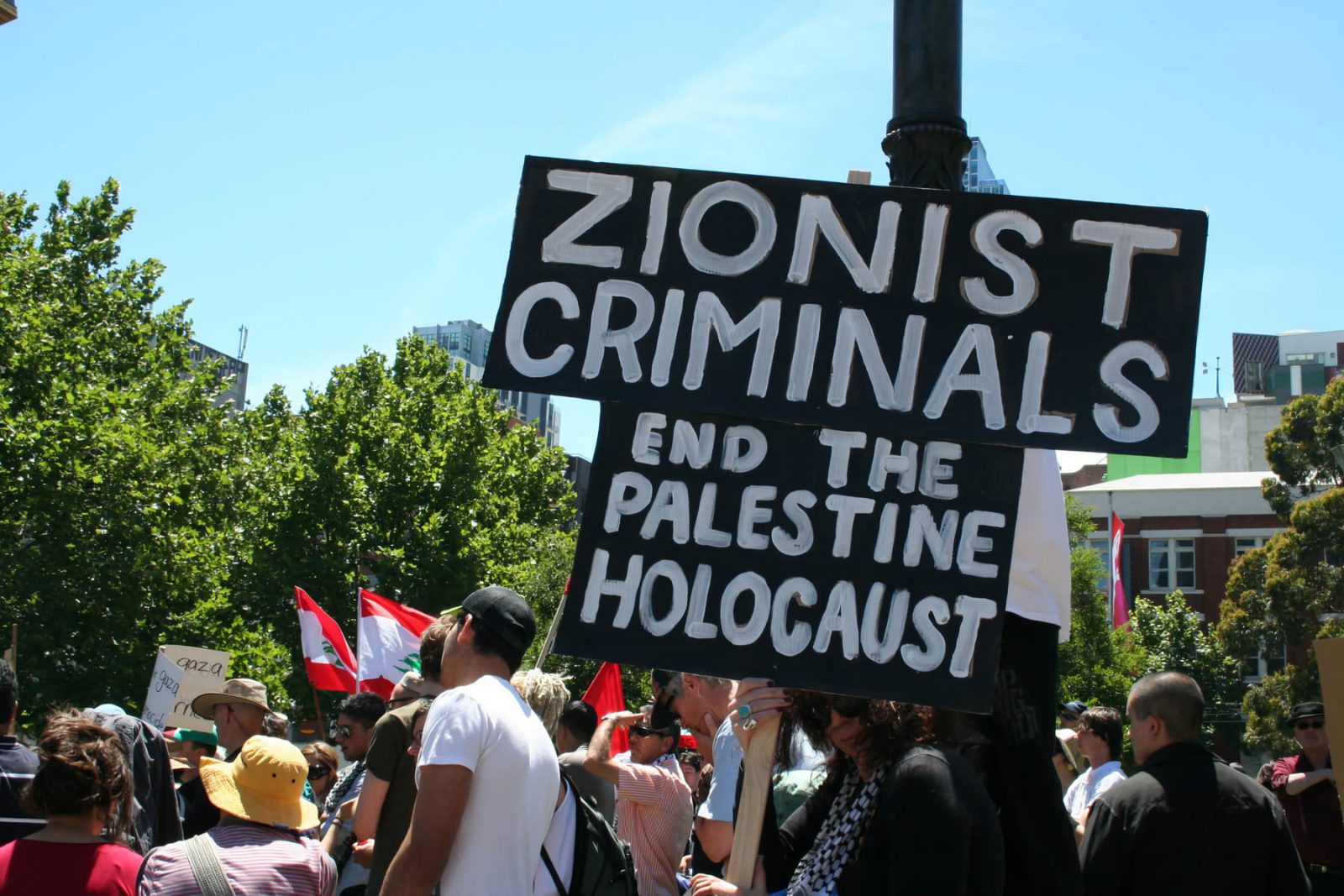 Englart, John, Melbourne Gaza Protest: Zionist Criminals, End the Palestine Holocaust (2009), photo, Wikimedia Commons https://commons.wikimedia.org/wiki/File:Melbourne_Gaza_protest_Zionist_Criminals,_End_the_Palestine_Holocaust.jpg
Address It
It is possible to have legitimate criticisms of Israel, or of any state or government, without subscribing to an ideology that demonizes or threatens the state's existence and vilifies Israel's supporters. One can promote Palestinian rights and nationhood without denying that same right to Israel — a consistent Jewish refuge from antisemitism — or denigrating Zionism, the historically-rooted right to Jewish collective self-determination in the Jewish homeland. Regardless of perspective on Israel, Jews are entitled to live free from antisemitism.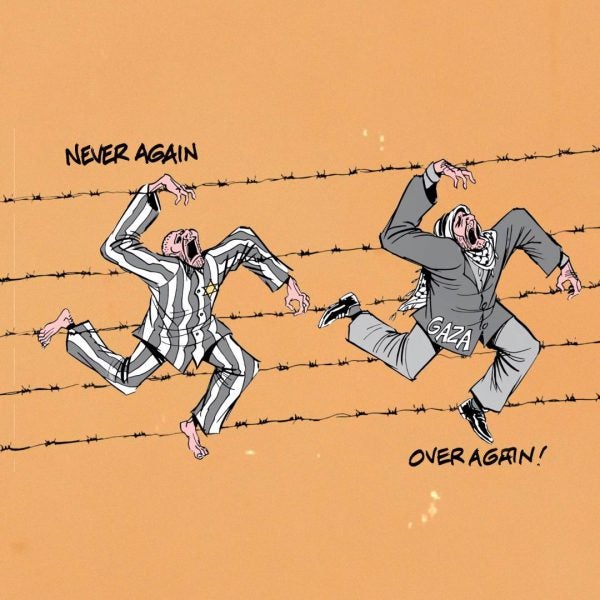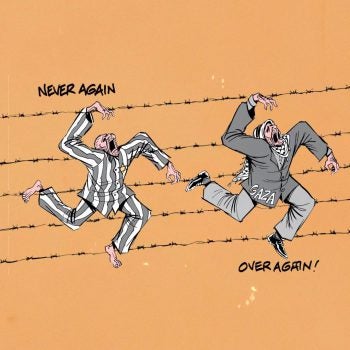 It's important to look at the motives and intents of people criticizing Israel. Do they believe in the right of the Jewish people — like all people — to self-determination? Do they recognize the 3,000 year connection of the Jewish people to the land of Israel? Do they accept the legitimacy of the State of Israel — or are they amenable to its destruction? Do they make fact-based arguments to criticize specific policies or instead demonize the entire country, its citizens and its supporters? Ask yourself these questions the next time you see a poster on a college campus or receive an invitation to protest or read an opinion piece.
Israeli policies and leadership may be criticized just as in the case of any other country. However, when that ostensible "criticism" questions the existence of the Jewish state, negates the legitimacy of Zionism, holds all Jews or Judaism responsible for Israel or uses age-old anti-Jewish conspiracies and stereotypes, it is antisemitism.
Join The Fight
Antisemitism Uncovered is a guide to help you understand more about the history and current manifestations of antisemitism. What's the next step? Join the fight against it! We've gathered all our most practical resources—the tools and strategies you need to engage in that fight—in one place: right here in Antisemitism Uncovered Toolkit: Resources to Speak Up, Share Facts and Show Strength Against Hate.